The Last Cold Case series
Book Club Discussion Guide
PDF | Word (docx) | Web Page
Book #3 – Last Winters's Taken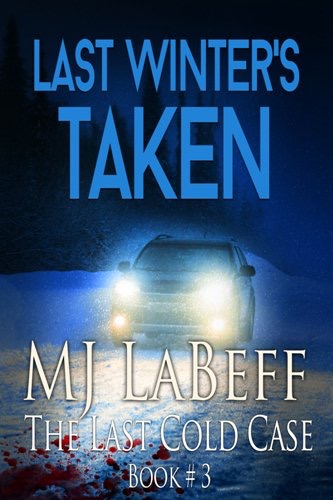 The murder of Willow Danby, a married woman and expectant mother, thrusts Homicide Detective Rachel Hood into a murder investigation and missing person's case as she searches for the baby ripped from Willow's body. The mysterious undertone surrounding the current investigation forces Rachel to reopen a cold case from the previous year. Yvonne Johnson and Willow Danby couldn't have been more different. Wrong side of the tracks meets white picket fence. The only thing the two women have in common: they're both dead and their infants are missing. Even with a long list of suspects to interview, alibis abound, and Rachel is no closer to solving Danby's or Johnson's deaths. She worries: where are the children? Rachel's psychic empathy draws her closer to the taken infants, and she suffers from a haunting premonition. But, how can she be their voice when they are too tiny to speak? A single clue left at each of the crime scenes links the cases together and leads Rachel to a mystery dating back to the year 1638. Her frightening premonition spirals out of control, but she can't track the infants' sobs. The sinister murders and search for the missing infants reunites her with occult crimes specialist and psychic FBI Agent Nick Draven. Even with his psychic gift of hypersensitive hearing, Nick can't hear the infants' cries in the night. Then a mysterious enigma is unearthed for the first time in over 372 years and draws them closer to a modern day sociopath, murdering expectant mothers and taking their unborn children.
Book #2 – Last Fall's Hunted
The game is human prey and the hunt is on…
Homicide Detective Rachel Hood and FBI Agent Nick Draven hunt for a serial killer harvesting kidneys from his victims' corpses during the fall equinox.
A dismembered body is found in Kill Buck Wildlife area in Snug Harbor, Ohio, and the discovery of two more victims within a twelve mile radius suggests a sadistic killer's return. Homicide Detective Rachel Hood, a psychic empath, joins forces with psychic FBI Agent Nick Draven to hunt for a killer who harvests kidneys from his victims' corpses. But, why strike twenty years later? They draw a parallel between his first crime and the recent murders. His first victim was murdered in 1991 during the rare occurrence of the super harvest moon, an event that will happen this year and fuel his blood lust to kill again. Time is not on their side. Hood and Draven have five days to find the killer before the next full moon rises and another teenage girl is found murdered and missing her kidneys. Drawn into a hunt for a serial killer, more deranged and dangerous than any other she's tracked and captured before, Hood finds herself unable to control her psychic empathy, and Draven must work fast to help her catch this human hunter before she becomes his next casualty.
Book #1 – Last Summer's Evil
A fearful city lies in wait. Summer is here. The solstice is near. Each time the serial killer strikes there are two more victims. One woman has already disappeared. It's only a matter of time before another woman is murdered.
Homicide Detective Rachel Hood, a psychic empath, feels every ounce of a victim's pain but is powerless to save her.
Psychic FBI Agent Nick Draven is a skilled profiler, specializing in occult crimes. Together, they must race against the clock to capture the psychopath terrorizing Snug Harbor, Ohio. Only one victim has escaped, but she can't ID her attacker. What they do know is the sick signature the killer leaves behind. A handmade ragdoll crafted out of the previous victim's clothes is found in the clutches of the deceased women.
Rachel's obsession with the case deepens, and she devises a rogue plan to outsmart the killer. The risky plot puts her life in jeopardy. The serial killer has had years to master the crime. Nick only has hours to track down the killer and rescue Rachel before she dies in a ritualistic sacrifice at the hand of a knife wielding, blood thirsty murderer.

Special thanks to video creator and author Kevin Hopson- visit www.kmhopson.com
Other Works by MJ La Beff
Mind Games
Sparrow Von Langley had a childhood that was anything but typical. Born into the privilege of wealth in Crystal Cove, California, her father is Dr. Theodore Von Langley, a well respected, nationally known behavioral therapist. Tormented by frightening visions brought on by a series of mysterious deaths, Sparrow is determined to search for the truth behind the tragedies and reconnects with Dr. Derrick Sloan.
Derrick has been searching for his missing sister, Kathlyn "Kat" Sloan since her disappearance ten years ago. A hypnotherapist helps Sparrow pull together the pieces of her traumatic past, and her repressed memories reveal the twisted truth behind the mysterious deaths and Kat's disappearance. She is shocked to discover her father's possible involvement, and when her hunt collides with Derrick's search for Kat, she must decide if she can trust him enough to follow the evidence trail together or risk losing the man she loves.
Will the only daughter of the respected doctor prove his guilt or innocence in his quest to change lives? Find out in MIND GAMES:
Scheduled release dates for upcoming books:
Last Cold Case series
Last Spring's Stranger – Spring 2020
Check back for future release dates in the Last Cold Case series and other books.